What is your OS? Do you use ONLINE OS?

Using AJAX environment, a web-based operating system was possible....
---
Linux fever hits the internet recently and I was also infected. I tried few distros including Ubuntu, SuSE (now
openSUSE
, the other one is SUSE Linux, go to their website to know their difference), KNOPPIX etc. Usually I only try the LiveCD version. I stick with Ubuntu because it's 100% free and it has a good community support (not to mention their nice documentation, yep - I installed ubuntu to my hard drive).
At first I was impressed that linux runs on CD without having to install it on my Harddrive! Moblity - that's the word. Very portable OS (like PCLinuxOS) became my pocket's friend. Just carry the LiveCD and a usb pen dirve (others call it usb flash drive).
But what is more portable than a web based OS? Is it possible - Having a storage and a set of application online? Not until YouOS dared to do it! You can create documents online, save it on the web and re-open it on the web. Hundreds of applicatin are available (soon it will be thousands). Use your own unique personal OS at the school, at internet cafe and even at the office (if your working already), or even in your friends PC (who restricts you for modifying your system settings. All you need is a web browser with good AJAX support, it will also be nice if you have Java(JRE) and Shockwave Flash in your system because some of application use them.
I am just waiting for a good media player to be available. They already have games available for installation, word processor, speadsheet and more office application and also IM.
It still is in beta stage so it is not perfected yet but it is already usable. NICE WORK! KEEP IT UP!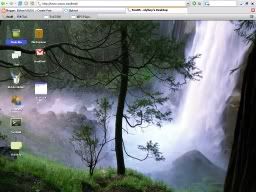 visit them at:
http://www.youos.com
Dont forget to add me as your buddy!
Thanks a lot! GBY
-
ELYBOY